The earrings in these photos were gifted to me, but this blog is not sponsored. All the opinions given here are my own as always.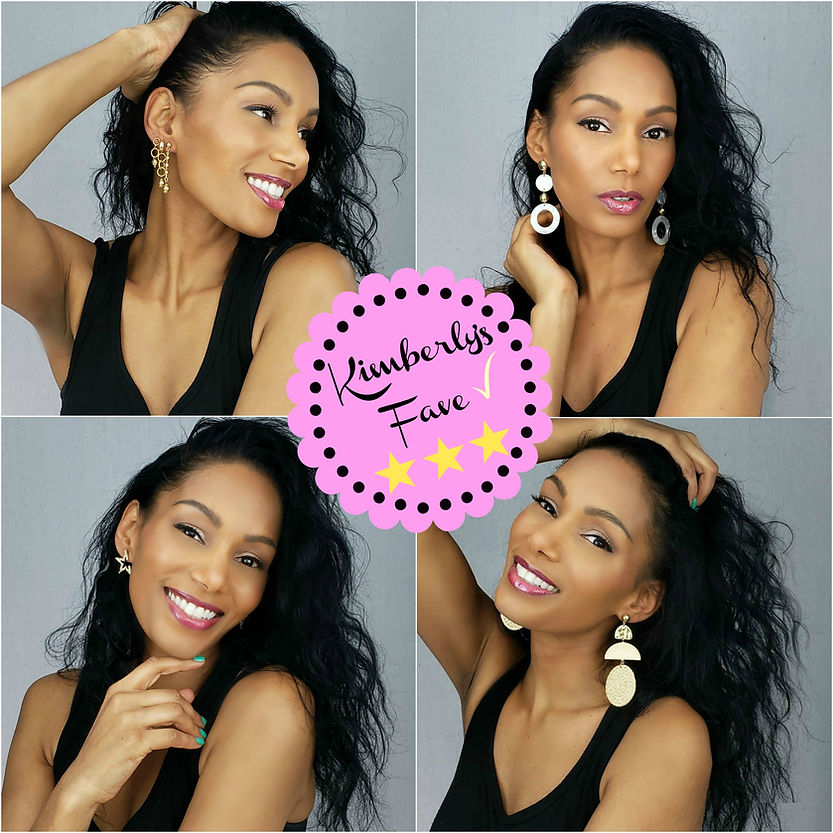 This month's Kimberly's Fave is all about earrings — Ettika Earrings that is! The earrings on this page are from a company called Ettika. They also sell necklaces, bracelets, rings and other pieces, but it's their earrings that I truly love the most and that's why I'm featuring them in this 'Kimberly's Fave' segment. If you are looking for some fashionable earrings that will take your look to the next level, this blog is for you!
We all know that the right jewelry can be the finishing touch to your overall look. It can be that one missing thing that takes your look from average to amazing! If you have a bad hair day or a no-makeup day, jewelry can draw attention away making them unnoticeable. It doesn't always have to be over-the-top, large pieces that do the trick — sometimes, it's those little, small delicate pieces that stand out even more.
Earrings are a must in my world! If I forget my earrings, I feel naked and my look is not complete. Maybe that's why I have 4 piercings in each ear! My favorite earrings are definitely hoops -– large hoops, mini hoops, thick hoops, thin hoops -– I wear them proudly and almost daily. They're easy and I haven't met a hoop yet that didn't go with my outfit, whether dressed up or casual.
Ettika Earrings come in a wide Variety
The first pair of earrings from Ettika were the ones in the photo above. At first glance, I thought they were huge, but the moment I wore them on my Instagram, I got so many compliments. I can see why, they really stand out! Keep in mind, I always wear silver jewelry, but although these have gold in them, I loved them so much, I wore them regardless.
The photo above shows another earring style. I like how these stars are close to your ears and sparkle just enough to get noticed. I love how these look expensive and go great with an up-do and a dressy outfit.
Because I have 4 piercings in each ear, I tend to wear a lot of studs to fill them up. However, Ettika showed me this cool style that I compare to layering necklaces…. You basically layer earrings. As you can see in the shot above, I'm wearing three different earrings that have different lengths. This makes them all visible and creates a super trendy look.
Conclusion
I should say, Ettika earrings are not cheap – they range anywhere from $25 to $90. Their quality is great though and if you collect jewelry, you will love these. If you want to see more of their earrings or other jewelry, feel free to check out their website. If you enter your email on their website, they give you a nice discount too on your first purchase!
Do you wear earrings? What types of earrings are your favorite? Which of the earrings on the page do you like the best? Don't be shy, leave it all down below in the comments. Thank you for checking out this 'Kimberly's Fave' blog post. Can't wait to snoop through your comments.