This blog post contains affiliate links. As an Amazon Associate I earn from qualifying purchases. When you click and make a purchase through the links on this blog, I earn a commission. Additionally, all opinions given in this blog are my own. Please read our full disclosure here.
Hi beautiful people! Get ready to be AMAZED! I am super excited to share this no-brainer eyelash hack with you using the KISS Falscara Eyelash Kit. If you're like me and are always struggling to put on false lashes, you will love this new way of lashing and getting beautiful lashes with Kiss Falscara eyelashes! Often, when I apply false lashes, it happens that the inner or outer corners refuse to stick correctly resulting in the lashes coming off halfway throughout the day. Also, the visible lash band often forces me to wear eyeliner to hide it even when I don't want to. That is, until today! Drumroll please! Introducing the Falscara Eyelash Starter Kit from KISS.
What's the Big Deal about Kiss Falscara Eyelashes?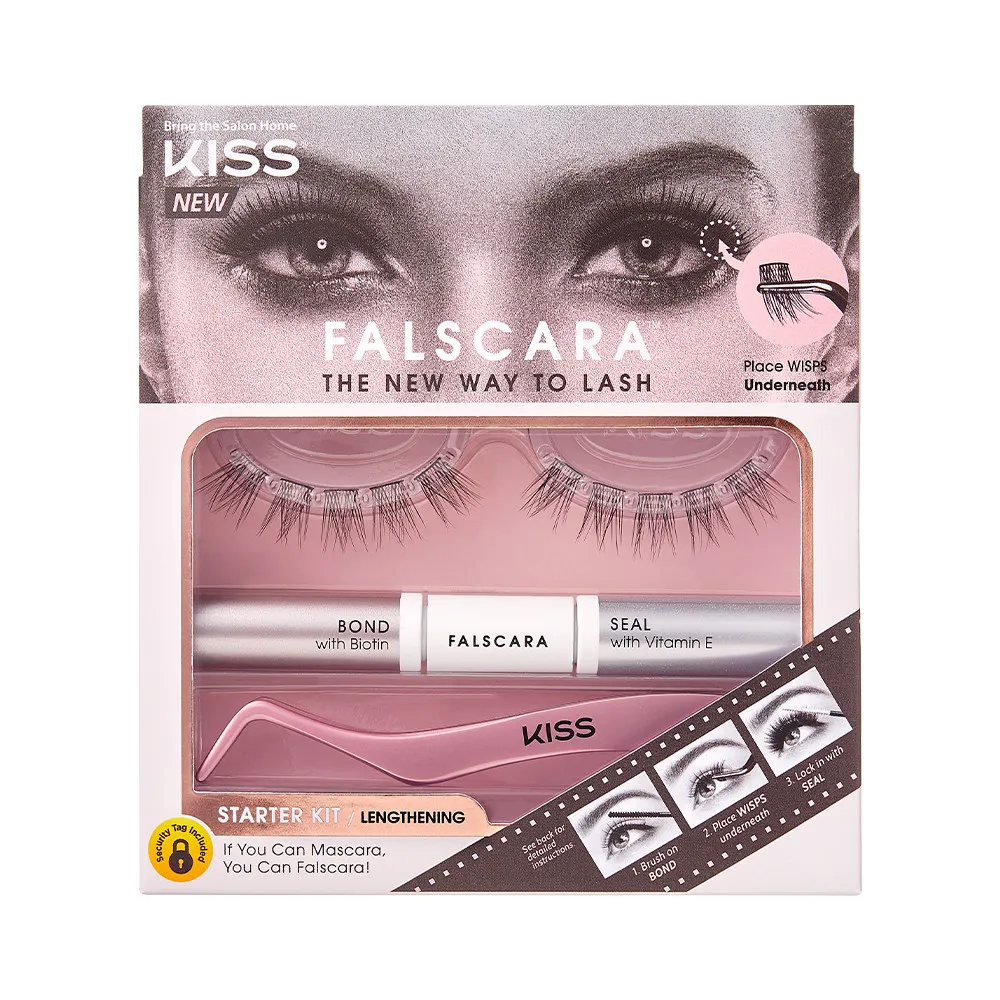 The KISS Falscara Lash Starter Kit comes with partial whisps, a bonding agent and a sealant. Additionally, there is a pair of curved tweezers in the kit, which makes it super easy to handle the small lash pieces. In case you were wondering, you can re-use the lash pieces multiple times. If you are new to faux lashes this kit is ideal because it contains everything to get you started.
If you are a lash-pro and are used to wearing falsies, you may not need the kit and can just get the Falscara individual wispies. Conveniently, the Kiss Falscara eyelashes lashes come in different varieties including lifting, lengthening and volumizing styles. This allows you to take full control of your look, as these lashes are buildable and customizable.
What are the benefits?

The big hack is that the KISS Falscara eyelashes are applied underneath your lashes, instead of on top of them as you normally would with falsies. Therefore, won't have that annoying visible lash band and the lashes will look super natural — like lash extensions. If you look at the photo above, you can see that I didn't even have to apply eyeline to hide a lash band, because there is nothing to hid. Another nice thing is that there is no messiness with the adhesive because the bonding agent is applied to your natural lashes with a mascara-like wand — not near your waterline. Finishing the application with the sealant, makes for extra staying power to ensure beautiful lashes all day long. Needless to say, the lash application is super easy and beginner-friendly.
Tip: For the removal of the lashes, you can use the KISS Falscara Remover or any oil-bases eye makeup remover.
If you are tired of constantly worrying that you're lashes are going to collapse during the day, try this eyelash kit and expect to be blown away! It's been a long time since I've come across a product that I was so excited about. Purchase the Kiss Falscara Eyelashes through any link on this blog, or look for it at any local drugstore where lashes are sold.
Having said all that… Just see the kit in action for yourself! Watch this 5 minute KISS Falscara Eyelash tutorial video and be amazed! It doesn't get any easier than this.
Have you tried this lash kit yet? What did you think? Yay or Nay?