The Flowerbomb perfume in this blog was gifted to me, but the blog itself was not sponsored. As always, all opinions given are my own.
Hi fragrance fans! Buckle up, because today we're diving into the fragrant world of Viktor & Rolf's Flowerbomb perfume. Now, here's a fun fact: while I'm soaking up the California sun these days, you may know that I was born and raised in the tulip-filled landscapes of Holland! Yup, the same land that designers Viktor & Rolf call home. But before you think this is a biased Dutch party, let me assure you: whether it's about fragrances or fashion, I always keep it real and my reviews are as straightforward as they come. So, get ready to find out if Flowerbomb is the real bloom or just a whiff in the wind? Let's dive in, and smell the roses!
Unraveling The Many Notes In Flowerbomb
Flowerbomb is just that — It's an explosion of floral fragrances. Hence the bottle shaped like a grenade. Fragrances consist of notes. If this sounds like a foreign language, think of it like this. When you put musical notes together, you can create a song. If you put fragrance notes together, you can create a one of a kind scent. When first spraying on Flowerbomb, you're greeted by the opening act which is a bubbly combo of tea, zesty bergamot, and a cheeky hint of osmanthus. After about 5-15 minutes just when you think these top notes peaked, in come the main act of jasmine, freesia and romantic rose. These middle notes last about an hour and are followed by the standing ovation and encore of the base note, which is a musky pachouli.
About Viktor & Rolf: The Duo Behind Flowerbomb
Flowerbomb burst onto the scene in 2005 and is a creation by designer duo Viktor Horsting and Rolf Snoeren. The two met at the Arnhem Academy of Art and Design in The Netherlands, and soon realized they were the PB&J of the fashion world – better together. Their fashion shows feel like you've stepped into an avant-garde theatre. The stage is just the runway and the clothes are the stars stealing the show. They're high-end, theatrical, playful and oh so wearable. Just like their clothes, their perfumes make life just a little bit more fabulous.
Want to look better? Check out this blog: 19 Easy Ways to Look Better Instantly
What Occasions are Ideal For Flowerbomb Perfume?
Flowerbomb is ideal to wear for many occasions. Whether you have a job interview, a dinner date or a birthday party, this bouquet of scents will surely make you leave a lasting impression. The fragrance's versatility is one of its strong suits. It's not one of those fragrances you can only wear when you're dressed up — even when in jeans and a tee, Flowerbomb will give you that dazzling boost. You can wear this scent year round. Its sweet and floral notes are perfect for the warmer months, while the warmer, spicier undertones make it equally suitable for the colder seasons. The complex blend of floral and oriental accords in Flowerbomb ensures that it's a captivating choice for women of all ages.
How to Properly apply perfume
My name is Kimberly and I'm a perfume junkie. I admit, I am one of those people who sprays on perfume like it's going out of style. I take the bottle, aim and spray, spray, spray and spray some more like my life depends on it. Not just in one spot, but all over and even in my hair. It's total overkill and often a waste of an expensive fragrance. Luckily this blog forced me to do some research on how to properly apply perfume. So, if you're like me, prepare to get it right.
Before spraying on perfume, think of what you are spraying it on. You want to start with clean, hydrated skin. Unlike dry skin, your fragrance will last longer and adhere better to it. Start with a bath or shower and follow it up with an moisturizer. Use an unscented moisturizer to prevent scent clashes and smelling like a human air freshener. It will also ensure that the fragrance remains true to its intended character.
Spray perfume on pulse points, which emit heat and will enhance the scent. The most common areas include the wrists, neck, behind the ears, and inside your elbows. Additionally, you can also spritz a little perfume on your clothing, such as the chest or the hem of your shirt, to make the fragrance linger longer. However, be cautious not to stain your clothes, and don't overdo it — a subtle fragrance is more enticing than an overpowering one. We're aiming for charming, not suffocating!
Reapply throughout the day if desired. This is personal preference, Some people want their perfume to be potent all day long as if they just sprayed it on. If this is you, a touchup spritz of perfume can do the trick. Flowerbomb is said to be a long-lasting fragrance that lasts about 8-12 hours. I don't really agree with this, because I feel the need to reapply it after about 4 hours. However, keep in mind, I'm one of those people who loves that potent scent. I like to smell the scent myself all day long.
Pricing and Where to Buy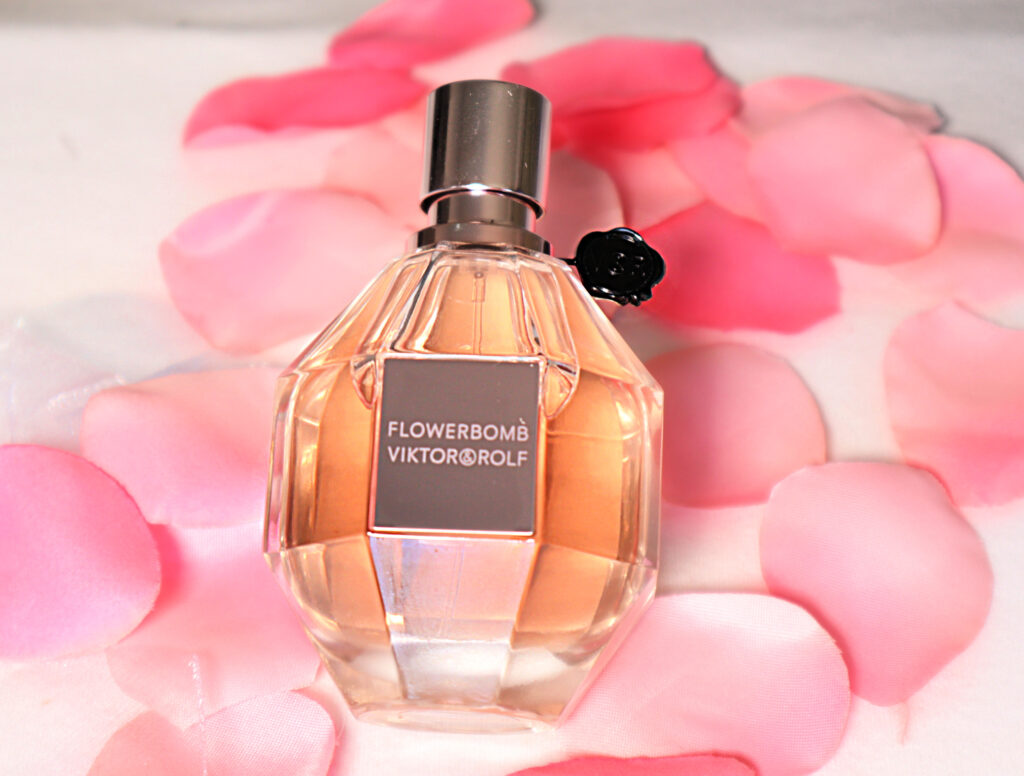 To ensure you are buying the real fragrance and not just a watered down faux perfume, it's always best to purchase perfumes from the actual website. The Viktor & Rolf website will show you the different sizes, prices and shipping costs and you can also familiarize yourself with their other fragrances. Alternatively, purchasing the fragrance from Ulta Beauty is another credible option.
Flowerbomb comes in three sizes (1.0 oz, 1.7 oz, 3.4 oz and 5.1 oz). Depending on the size you purchase, the price generally ranges from $96 to $224. This is a pricier fragrance, so to ensure you really like it, going by the Ulta store to smell Flowerbomb before you buy it, might be worth the trip. If you don't want to spend the money, look for the mini 0.23 oz travel-size sampler bottle on the Ulta Beauty website. It's a good way to save some money while still enjoying the fragrance.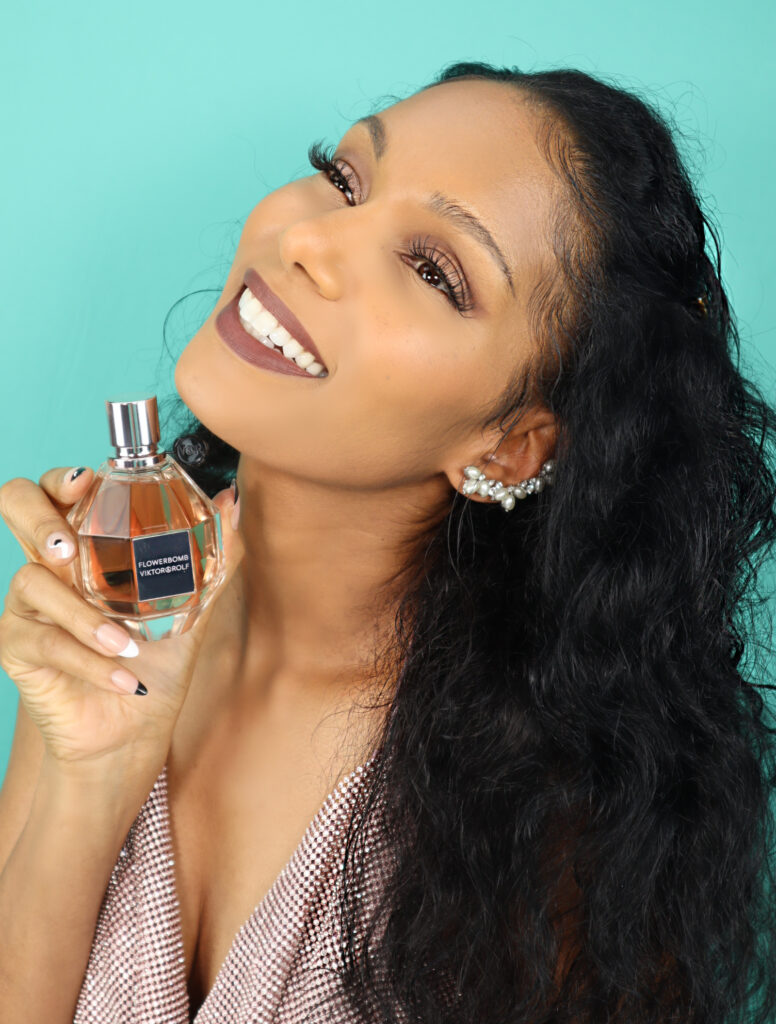 Viktor & Rolf Flowerbomb perfume makes for a great gift. Whether for a birthday or the holidays, when gifting, you can even have to bottle customized when you purchase it from the website. You can dress the bottle up with a bow or flower and have it engraved with a message and the receiver's name. Who wouldn't love receiving a personalized bottle of perfume?
Need more Scent gifting inspo? Check out this video: Scentbird Perfume Subscription Service
Conclusion
I'll say it again, on Kimberlyworldwide.com, we keep it real and honesty is key. Yes, I love the fragrance — it's beautiful and if you enjoy a floral scent, this perfume will be a pure joy to wear. I remember when I first smelled Flowerbomb in Ulta Beauty, I was instantly sold. This scent had my name written all over it. Now, when I first saw the price of the perfume, I had to do a doubletake, because although I'm not a stranger to a pricy fragrance, I didn't expect Flowerbomb one to be this expensive. Even the smallest size is pricey, and if you're on a budget, this perfume may not be the way to go. However, if your budget allows it and you love a floral fragrance, this perfume won't disappoint. As an added bonus, the grenade-shaped bottle is like jewelry on your vanity. So overall, this perfume look very pretty, the scent is pure pleasure, but it is quite pricey.
Now you! Have you tried Flowerbomb by Viktor & Rolf? Does it sound like a fragrance you would try or gift? Sound off below. Sharing is caring.