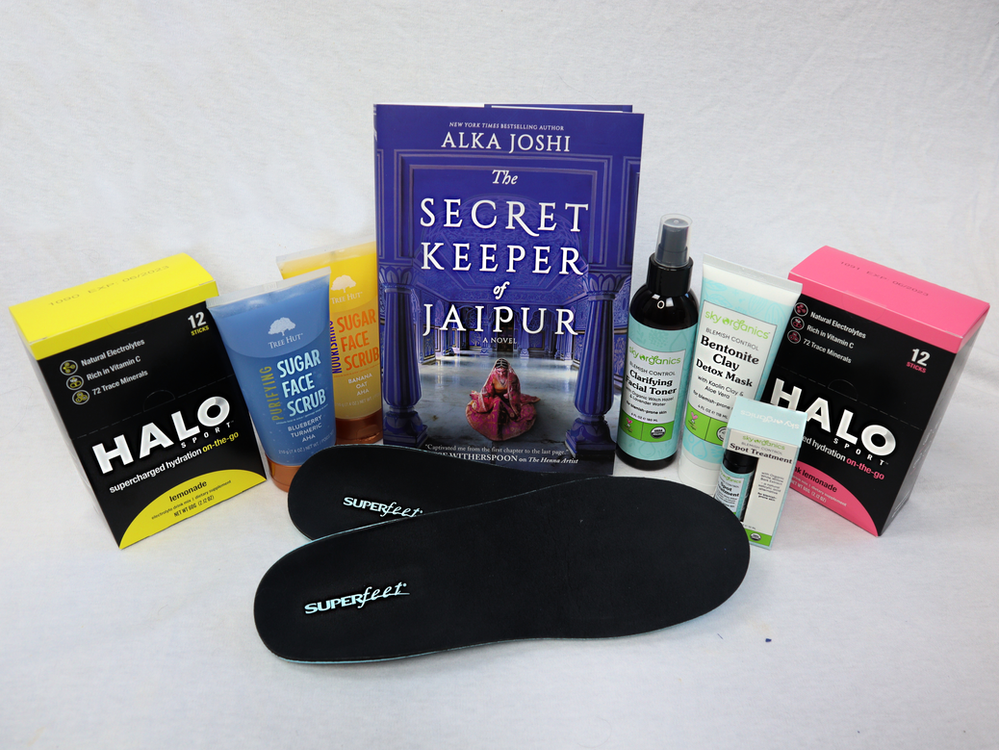 Disclosure: This post was sponsored by Babbleboxx, but as always, all opinions expressed are my own. This post contains affiliate links. As an Amazon Associate I earn from qualifying purchases. When you click and make a purchase through the links on this blog, I earn a commission. Additionally, all opinions given in this blog are my own. Please read our full disclosure here..
Hi beauties! As the summer weather is heating up, remember to stay cool, calm and comfortable. I am extremely excited to write this blog because I have been spoiled with a box of summer essentials, courtesy of Babbleboxx. I'm happy to say, I've discovered some new products to help me beat the heat during +summer. As you might know, rather than just telling you about the products, I make it a point to try and test them, in hopes that you will find my always-honest reviews helpful.
Tree Hut Sugar Face Scrubs – Summer Essentials
What better way to get through summer than with a healthy glow? The all-natural, cruelty & paraben-free sugar face scrubs from Tree Hut can help you do just that. I received their Nourishing Banana & Oat Face Scrub and their Purifying Blueberry Turmeric Face Scrub. So far, I've just tried the latter, which contains vitamins A & E to help seal in moisture while keeping skin soft and smooth. It also contains Turmeric to help calm, tone and purify problem skin. Just FYI… There are many more Tree Hut scrubs that I want to try.
Tip: For other ways to help you look better, check out my blog on tips and tricks to look better right away.
The scrub felt gentle on my skin, and its thick consistency made for a mess-free application. After rinsing it off, it left my skin feeling super fresh and clean. These Tree Hut Sugar Face Scrubs are ideal to use during showers. Therefore, these two have found their new home in my bathroom.
Everyday Comfort Insoles from Superfeet
Hot weather or not, if you follow my Instagram Stories, you know, I make it a point to get a healthy dose of exercise. After my treadmill workouts, my feet are tired and achy as if I was walking in high heels all day. You can imagine my eagerness to try the Everyday Comfort Insoles from Superfeet. Cutting the insoles to fit my sneakers was super easy. When I put on my sneakers, a big smile appeared on my face, because I had a little secret that nobody could see. The Memorycloud Memory foam formed to the shape of my feet, while cradling my heels and supporting my arches. I felt like I was walking on a cloud – almost like a mattress for your feet. I'm happy to learn that the Superfeet Insoles last for 500 miles or 12 months, so goodbye to the days of tired, achy feet.
HALO On-the-Go Hydration Powders – Summer Essentials
HALO on the Go Hydration Powders can turn a plain bottle of water into an electrolyte filled, yummy drink that's rich in vitamin C and contains 72 trace minerals. These powder sticks provide supercharged, healthy hydration that's great for replenishing yourself after a workout. I received the lemonade and pink lemonade flavors. I love that these only have 15 calories and 1 gram of sugar, and are easy to just put in your gym bag so you always have them on hand. Try HALO on the go Hydration yourself to see if you like it.
The Secret Keeper of Jaipur by Alka Joshi
Just reading the reviews for The Secret Keeper of Jaipur made me extremely excited to start reading it. This sequel to "The Henna Keeper" continues the story of Malik, who is now an intern at the Jaipur Palace dealing with the aftermath of a balcony collapsing on the opening night at the Royal Jewel Cinema. Although this is a sequel, you don't have to have read the first novel, to understand this one. I've just started reading this book and I'm already intrigued by Alka Joshi's wonderful writing style. Whether you're looking for some good summer reading to get lost in, or for a great gift, this book comes highly recommended.
Skincare from Sky Organics – Summer Essentials
I received the Sky Organics Blemish Control Clarifying Facial Toner, the Blemish Control Spot Treatment and the Bentonite Clay Detox Mask. I instantly knew I had to try the detox mask, simply because I haven't had a facial in a while and my skin could use a good deep cleanse. Once the mask was on, I felt a pleasant tingling sensation on my skin indicating it was working its magic. After removing it, my skin felt revived and clean. Sky Organics uses plant-powered, organic ingredients and their products are vegan and cruelty-free. You can find them in Whole Foods. I can't wait to try the other two products also.
Have you tried some of these summer essentials? If not, which one caught your eye? Sound off below in the comments – sharing is caring!