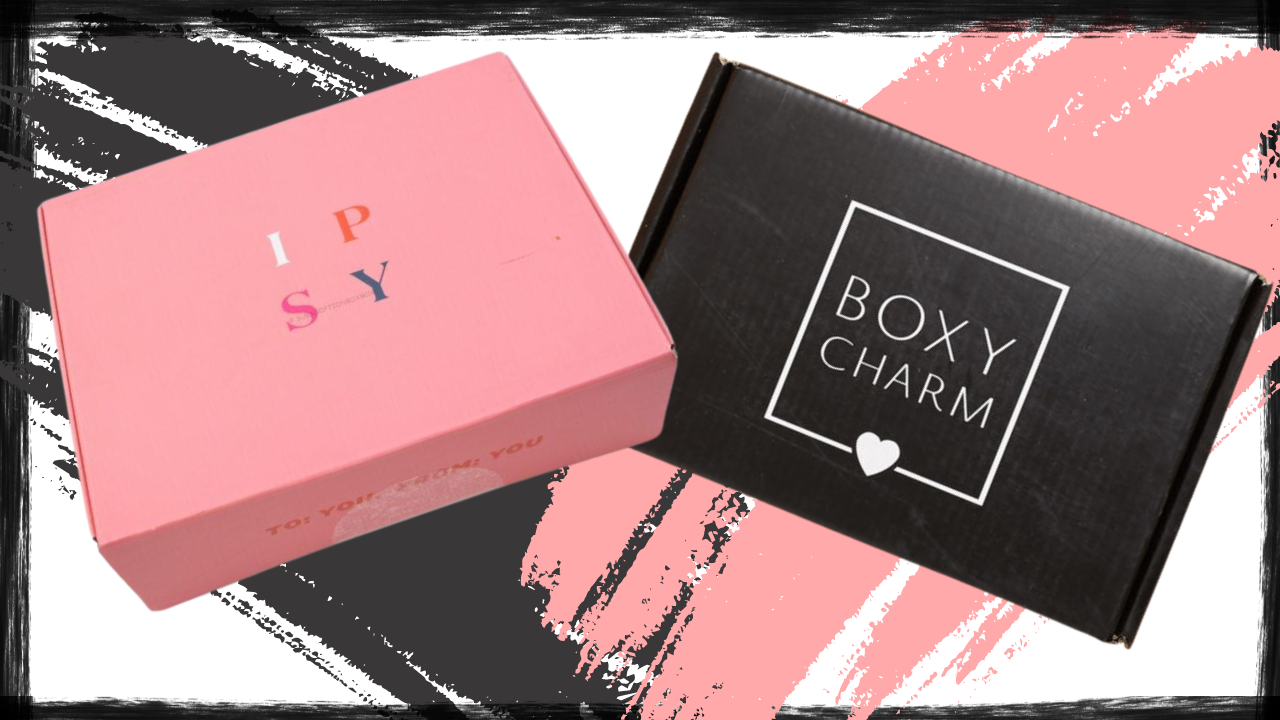 As a member of the IPSY Creator Incubator program, I receive the products in this blog complimentary. Additionally, this blog post contains affiliate links, and when you make a purchase through one of these links, I receive a commission. Please read our full disclaimer here.
IPSY vs BoxyCharm: Which is Better? If you find yourself asking this question, then this blog is for you. Are you always looking for the newest beauty trends, but don't want to blow your budget? Are you searching for the perfect gift for a makeup or beauty enthusiast in your life and need some guidance? Then subscribing to a beauty box might just be the way to go! IPSY and BoxyCharm are two of the most popular beauty box subscriptions, giving their members beauty products that are tailor-made just for them. In this blog we are going to explore "IPSY vs BoxyCharm which is better." With so many options out there, there can be some confusions about which is worth your money. You will find out what each beauty subscription has to offer: from personalized samples and customizable preferences all the way through affordability and beyond. Let's get started!
IPSY vs BoxyCharm – How it Began
IPSY and BoxyCharm are two of the most popular beauty subscription boxes in the world. Founded by Michelle Phan and Royse Levinson, both companies were established in 2011 with the mission to make beauty more accessible to everyone. IPSY takes a personalized approach while BoxyCharm focuses on full-size products that will help customers explore new trends and create their own unique look. Allowing subscribers to discover new brands and products every month without breaking the bank, both services have become incredibly successful over time.
IPSY and BoxyCharm Merger
IPSY has grown to become a leading subscription-based beauty service with over 3.5 million monthly subscribers while BoxyCharm acquired about 1 million subscribers. What many people don't know is that in 2020, IPSY acquired BoxyCharm. However, both beauty box subscriptions still operated independently, making many perceive them as each others competition. It was always BoxyCharm vs IPSY instead of BoxyCharm and IPSY. Finally in 2022, they revamped and relaunched their setup emphasizing that they've joined forces to form one of the most powerful beauty communities in the world. With this merger, customers can expect to benefit from even more brands and products that are affordable yet high quality. The future of self care looks bright as IPSY and BoxyCharm join forces to create a world where beauty is accessible for all.
What to Expect from an IPSY Glam Bag Subscription
With the merger of IPSY and BoxyCharm, the beloved IPSY Glam Bag Plus has been discontinued. Although this news may come as an unfortunate surprise for many makeup enthusiasts who have been loyal to the Glam Bag Plus, the original Glam Bag subscription is still available.
An IPSY Glam Bag subscription is a great way to discover beauty, makeup, and skincare products from popular brands delivered right to your doorstep. During sign up, you take a beauty quiz and inform the company about your beauty preferences. Then, each month you can expect a personalized makeup bag full of five deluxe samples tailored to your individual skin tone and type, plus skincare and makeup tutorials. You get to choose one of the products your receive each month. The products come in a reusable makeup bag that is super convenient to hold your makeup in one place. You can expect to get beauty tools like makeup brushes and tweezers, and skincare items, nail polishes, eyeshadow palettes, lipsticks, and hair products. The products are sample sizes, making it ideal to "try before your buy." Subscribers also get access to exclusive discounts on featured brands in the monthly IPSY shop as well as free samples and promotional offers. You can use the products to enhance your appearance. For some tips on how to look better instantly, make sure to check out the blog post on things you can do to look better right away.
IPSY Glam Bag Pricing and Plans
The current pricing of the IPSY Glam Bag on the IPSY website is $13 per month. Shipping within the U.S. is free of charge. IPSY also ships to Canada, but there is an additional $2.95 charge for that. Each Glam Bag contains beauty items that add us to a total value up to $70. Instead of paying monthly, IPSY also offers an annual subscription price of $143, which gives you one month free. IPSY subscribers also have the option to review the products they receive in return for points which can be used for free products or discounts in the IPSY shop.
What to Expect from BoxyCharm Subscription
With BoxyCharm you can treat yourself or someone special to a selection of high-quality beauty products every month. Each box comes with five full size and luxury sized product samples from popular brands like Benefit, tarte, and Lorac. Plus often you'll get a few extra free products added in. Similar to the IPSY bag, the BoxyCharm box is personalized for you. The items you receive are based on your preferences and beauty style. During sign up you take a beauty quiz asking about everything from your skin tone and makeup coverage preferences to your beauty shopping habits. You can expect to get products from both emerging and popular brands. With Boxycharm you get to pick three of the five products you receive.
BoxyCharm Pricing and Plans
BoxyCharm costs $28 a month. The monthly box you get has a total value up to $200. If you decide to sign up for an annual subscription, you pay $300 up front and you get one month free. BoxyCharmers can also earn points with reviews of the box or products they receive or by referring friends. The points can be redeemed for free items or discounts in the online shop.
Upgrade to the ICON Box
If you already have an IPSY beauty subscription, you can upgrade it to get the Icon Box. You'll receive this box on a quarterly basis — every February, May, August and November. This box is only available if you already have an existing IPSY subscription. It costs $58 per quarter and has a value up to $350. The Icon box contains eight full-size products that are carefully selected for you by some of beauty's biggest icons. The May 2023 Icon Box for instance, is curated by none other than Anastasia Soare, founder of Anastasia Beverly Hills. With the Icon Box, you have the option to choose three of the eight products you'll receive, but if you prefer the element of surprise, you can just leave it up to the experts. You also get the option of add ons if you want additional items in your box.
IPSY vs BoxyCharm Which is Better?
When it comes to BoxyCharm vs IPSY beauty boxes, your choice depends on budget and preference. If you are someone who is not picky about the products you use and like discovering and trying new brands without going over your budget, the IPSY glam bag is ideal since it gives you a little taste of high quality items without the expensive pricing. The glam bag is also a favorite gifting item for teenagers and young adults who are not really sure yet about what products are out there. The monthly samples in the IPSY Glam Bag are ideal for finding lifelong favorites.
If you are more well-versed when it comes to makeup and skincare products, BoxyCharm is the customized box for you. The BoxyCharm Box is ideal for those who want a complete beauty experience and crave the latest trends. Whether it's makeup, skincare, haircare, nail care, tools, accessories and more, this box contains a nice variety. It's like receiving a mini-makeover every month! You get full size items of top brands at a still affordable price. This subscription is ideal if you're into the newest trends and are looking for an exciting way to add to your beauty routine or upgrade your current look.
Once you get your online glam bag or BoxyCharm subscription, you can always go for the quarterly upgrade to the Icon Box. If you love makeup and want to create unique beauty looks, this box can take it to the next level. The full sized products make for a great gift for mother's day, birthdays or the holidays.
The Differences Between the IPSY Glam Bag vs BoxyCharm
IPSY Glam Bag
The cost is $13 per month
Contains a value up to $70
Comes with 5 mini/travel size products
Contains recognizable brands name products
Comes in a different makeup bag each month
You choose one of the products you receive, experts choose the remaining four
Free shipping in US. (Canada $2.95)
You get points for reviews and referrals
you can redeem points toward free items in next month's bag
You can participate in their frequent giveaways
You can cancel your subscription anytime
BoxyCharm
The cost is $28 per month
Contains a value up to $200
Comes with 5 full sized products
Contains popular trendy brand name products
Comes in a cardboard box
You choose three of the products and experts choose the remining two
Free shipping in US. (Canada $4.95)
You get points for reviews and referrals
You can redeem point in the online shop
You can participate in frequent giveaways
You can cancel your subscription anytime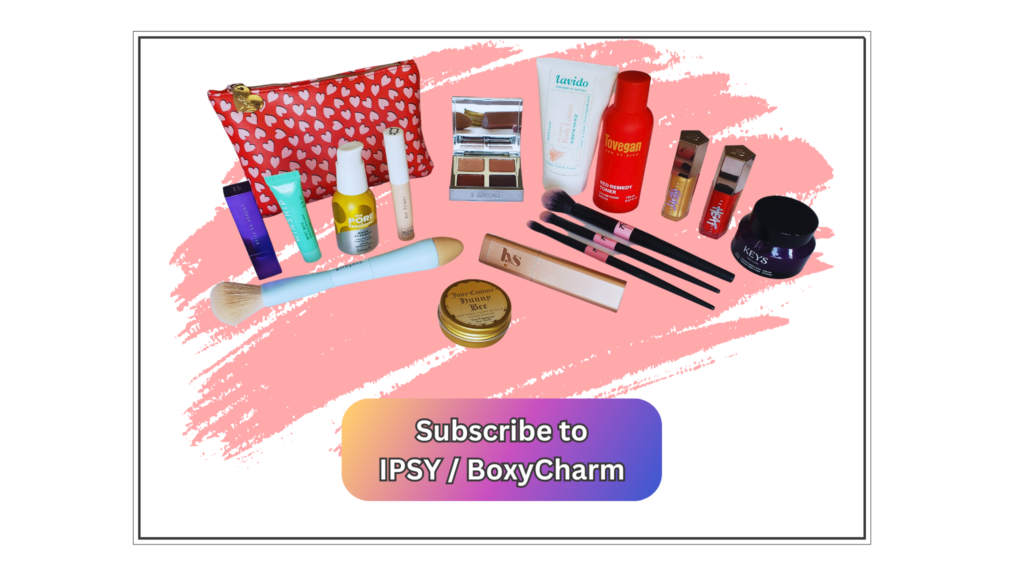 What are the Cons of these beauty subscription boxes?
As someone who gets both the glam bag and the BoxyCharm box in PR, you may think it's hard for me to pinpoint the cons of the beauty boxes. However, if you know me, you are aware that I always keep it read. The biggest con when it comes to the boxes is that sometimes you get a duplicate item from one month to the next. I have received multiple mini mascaras from the same brand in different glam bags. Not that I mind, because I have found many great mascaras this way. However, you may not be as fond of this as I am. Also, makeup brushes and skin care products have been duplicated before. Other than this, I thoroughly enjoy the items I receive from IPSY and BoxyCharm.
Make sure to browse through my unboxing videos so you get an idea of what you can expect to get. I even did videos where I try on the makeup products that I received. As you will see, they are of excellent quality.
Conclusion
In conclusion, IPSY vs BoxyCharm both offer great subscription boxes that are full of beauty and skincare products. IPSY is more catered to individuals who are looking for a personalized box with high-end brands, while BoxyCharm is more focused on finding the best multi-brand items at the most affordable prices. Both make for great gifts and are a wonderful way to treat yourself or someone else with special beauty products every month! Some of the brand that you can expect to get include Lancôme, Benefit, Fenty, Tarte and NARS. Additionally, both subscription boxes come with additional benefits such as access to exclusive discounts and member-only offers. Ultimately, it comes down to what type of beauty items an individual is looking for, but either way you're sure to have a blast trying out the newest and greatest items each month. Click here to get you IPSY or BoxyCharm Subscription and spoil yourself a little.