This blog post contains affiliate links. As an Amazon Associate I earn from qualifying purchases. When you click and make a purchase through the links on this blog, I earn a commission. Additionally, all opinions given in this blog are my own. Please read our full disclosure here.
Beautiful, healthy, youthful lips. We all want them, yet we still neglect them. Think about it. When it comes to skincare, we often give all our attention to our face, hands, and body, while our lips are left to fend for themselves. The truth is, however, the skin on our lips is much thinner and more delicate than the skin on the rest of our bodies. Therefore, lips are more susceptible to dryness, chapping, and early signs of aging, such as fine lines and wrinkles. Not to worry, I'm writing this blog to share with you the best lip moisturizer that I've come across — The City Lips Plumping Lip Gloss from City Beauty. It made the Kimberly's Fave list, and you know that although I am brutally honest in my reviews, when I meet that amazing product, I'm the first one to share it.
What Causes Dry Lips
If you thought you were immune from dry lips, think again. Anyone can get them at any time. Unlike other parts of our skin, lips don't have oil glands, and therefore, they don't produce natural moisture. On top of this, when lips are exposed to weather conditions, such as the cold of winter or heat of summer, it makes them susceptible to drying out. That's not all, certain medications and not staying hydrated can also cause your pucker to dry out. You may think that licking your lips will combat the dryness, but all it really does is strip away the natural moisture, leaving them even more chapped and uncomfortably dry.
The Best Lip Moisturizer – City Lips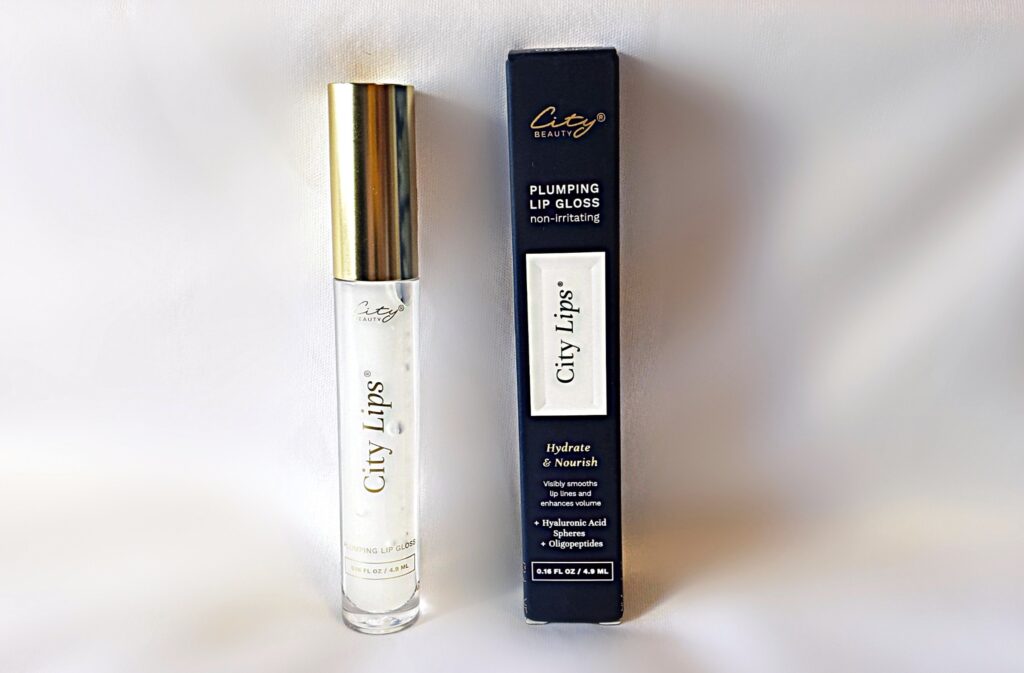 If you've been following me on my Instagram or YouTube Channel, you probably know that I always have something on my lips. If I'm not wearing lipstick or lip gloss, I'm wearing some kind of lip balm. It's been like that since my teens, and honestly, I think I am a little addicted to always having moisturized lips. Ever since I've discovered the City Lips plumping lip gloss, it's been my go-to. Although this product says it's a plumping lip gloss, I mainly use it as a lip moisturizer. At the end of the day, after taking off my makeup, washing my face, and putting on my skin care products, City Lips is right there as part of my routine. I even keep a tube on my nightstand within hands reach.
What does city lips plumping lip gloss do?
The City Lips Plumping Lips Gloss gives your lips a healthy appearance and provides hydration, all while plumping your pucker. The gloss doesn't contain harsh irritants like some other lip plumping glosses that uncomfortably sting and tingle on your lips. When you put this gloss on, there is no tingling sensation whatsoever. I actually love that, because generally when products mention 'plumping' they sting on your lips which can be super uncomfortable. Hyaluronic Acid, peptides, Freshly bloomed Ylang Ylang blossoms and macadamia nut oils are are just some of the ingredients used to make this gloss.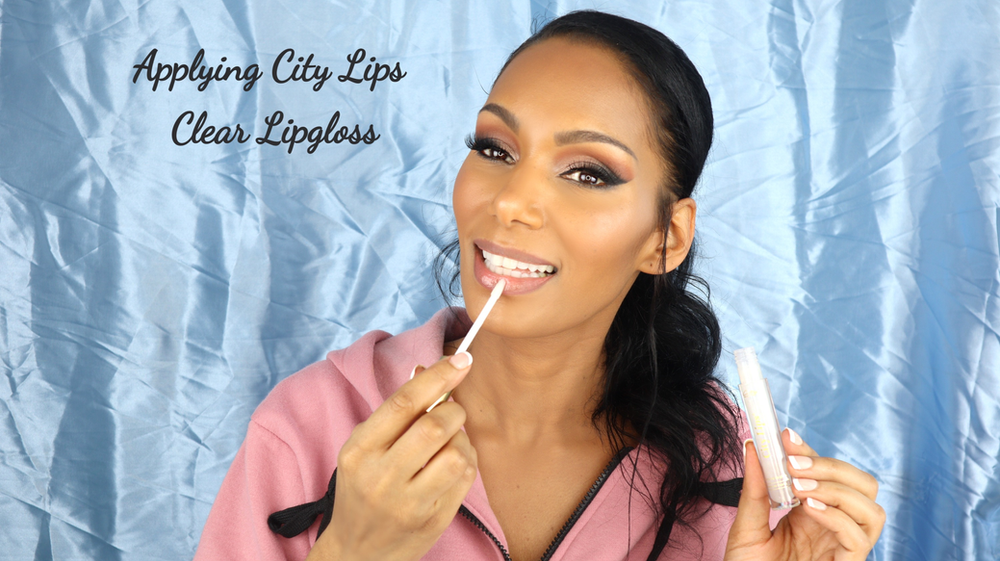 What About Lip Wrinkles?
To make it on the 'Kimberly's Fave list as the best lip moisturizer, you know this product had to do more than just moisturize and plump lips. The City Lips plumping lip gloss also combats lip lines and wrinkles on and around your lips. You may know these lines around your lips as "marionette lines," "smoker's lines", "lip wrinkles", or "perioral wrinkles". They are generally caused by repeated facial expressions, sun exposure, smoking, and the inevitable aging process.
The lip moisturizer has a thick, non-sticky consistency. When you apply it, it leaves a beautiful gloss and visibly reduces the lines on your lips. Lips look instantly smoother and much healthier. When I put the product on before bedtime, I always apply it a little over the outline of my lips to help combat lines around my lips. Just knowing I'm doing something to combat those lines, makes me feel better.
Is City Lips For You?
Absolutely. If you have dry, chapped lips or lips that lack luster, this gloss will switch it around instantly. It will also make for a nice lasting lip gloss that gives a glass-like sheen to your lips. The best thing of all is that you don't have to wait weeks or months to see results. I find that the lip moisturizer instantly transforms your lips to look and feel healthy. I haven't really paid much attention to the plumping effect of the gloss, because that's not the main reason I use it for. However, I consider that a nice extra bonus.
Conclusion
As you know, I always keep it real and this time, is no different. Many of my beauty tips for women are about what to put on your skin. However, we cannot forget about our lips! I haven't really paid attention to lip lines or wrinkles, but do know that when I apply the gloss, my lips feel smooth and the hydration lasts for hours. It's not sticky on your lips, doesn't have a weird scent or flavor, and honestly…. I think I am highly addicted to this stuff. I can honestly say that although I've tried some good lip products in the past, this lip gloss is by far the best lip moisturizer. If I had to say something negative about the gloss, it would be that the tube is too small, because with my daily applications, I go through one tube in a month easily. Fortunately, the lip gloss stays on your lips for a long time, so constant re-applications are minimal.
If you want to try the City Lips Plumping Lip Gloss yourself, you can purchase it here. Thank me later.
What is your favorite product to keep your lips in tip-top shape? Have your tried City Lips before? If so, let me know your thoughts in the comments below. Sharing is caring.