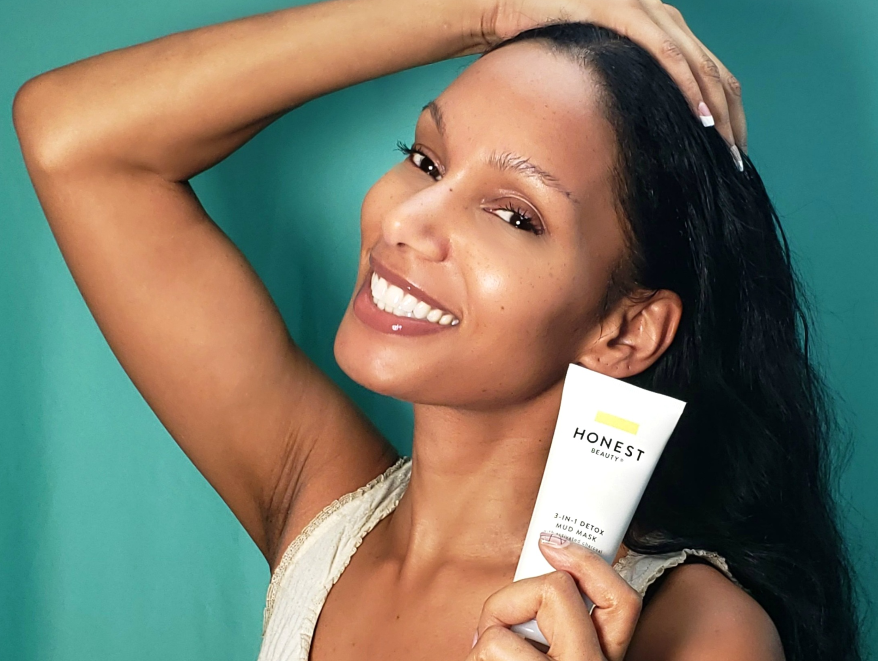 This blog post contains affiliate links. As an Amazon Associate I earn from qualifying purchases. When you click and make a purchase through the links on this blog, I earn a commission. Additionally, all opinions given in this blog are my own. Please read our full disclosure here.
Hey there beauties! Are you ready to dive deep – and I mean pore-deep – into the world of skincare? Does your skin feel like its in need of a mini-vacation or a quick refresh? Could you use a little spa-like pampering after a long week? Not to worry, you've come to the right place. When I need a pick-me-up, I revive my skin with a facial mask. They're quick, easy, effective and don't have to break your budget. I recently tried the Honest Beauty 3-in-1 Detox Mud Mask from Jessica Alba's skincare line. If you've wondered about this brand and whether they have good products, get ready to learn the "honest" truth. Let's get the mud-slinging started as we peel away the layers of the Honest Beauty 3 in 1 Detox Mud Mask.
About Honest Beauty?
If you haven't heard of Honest Beauty, you must be living under a rock. Actress and founder Jessica Alba has put her brand name on everything from baby and cleaning products to skincare and makeup products. The Honest company is just that… Honest… They make it a point to inform consumers about all the ingredients in their products. Honest Beauty wants consumers to trust that the products they're using are safe. This transparency is refreshing, especially when it comes to skincare. Nobody wants to be kept in the dark about what they're putting on their ski. Additionally, the Honest company doesn't test on animals and states that their Honest Purpose is to empower people to live happy, healthy lives. Sounds great so far right?
What is the 3-in-1 Detox Mud Mask
The Honest Beauty 3-in-1 Detox Mud Mask contains activated charcoal, refined white bentonite, Jeju volcanic ash, shea butter and manuka honey. Sounds super exotic right. All these ingredients are said to help purify, condition and luminize your skin. Additionally, they help to minimize your pores, remove impurities, and detoxify. After masking, your skin should feel soft and smooth. The mask comes in a 2.8 fl oz. tube and because you can use it multiple times, it's budget friendly and costs less than $20.
If you love masking, make sure to check out this MyMasq blog. This mask allows you to put your own spin on your skincare routine.
Does this Honest Beauty Mask Work?
When I first applied the mask, I instantly noticed how creamy it was. It wasn't dry like you would expect a mud/clay mask to be. It felt more like I was applying a cream to my face, which was very pleasant. It allows you to spread it out easily, so you don't even need to use a lot.
The Honest Beauty 3-in-1 detox mud mask mask, which doesn't contain any synthetic fragrances, has a very pleasant, natural scent. I also like that it didn't get super dry on my face to the point where there would be an uncomfortable tightness. After about 10 minutes, I washed off the mask and well, my skin was left indeed soft and smooth, with a healthy glow. You might not be able to see the softness in the photos, but you all know I keep it real — If this mask was horrible, I'd be the first to let you know.
If you love skincare insp, make sure to follow me on Instagram!
Conclusion
Would I buy this mask again? Absolutely! The tube is well worth it, because it will last a long time since a little goes a long way. After applying the mask, it left a nice glow to my skin and my skin looked healthy and vibrant. Not to brag, but it looked so good, I didn't even want to apply makeup to my skin. Also, knowing that I am putting a product on my face that is safe and doesn't have harsh, dangerous chemicals in it, makes it all the better. Whether you just want to add that glow to your skin, or just look awake and refreshed, this mask can make it happen. I'd rate this mask an 8.5 out of 10, which you all know is pretty high for my super-picky and demanding standards.
Have you used Honest Beauty products before? If so, what did you think of them? No need to be shy… Sound off in the comments below. Sharing is caring! Happy masking!