This blog post contains affiliate links. As an Amazon Associate I earn from qualifying purchases. When you click and make a purchase through the links on this blog, I earn a commission. Additionally, all opinions given in this blog are my own. Please read our full disclosure here.
If you want to know how to make your eyes stand out, keep reading to discover 13 ways to make your eyes pop. Without saying a word, your eyes reveal all your secrets. Whether you are tired, hung over, have been crying, are getting older, or are sick, your eyes spill the beans on everything. Fortunately, there are effective beauty tips and tricks that will make eyes stand out, so they look younger, revived and alive. These tips instantly transform you and will make your eyes pop.
1. Get Enough Sleep to Make Your Eyes Pop
Sleep is the best remedy to make your eyes pop. Sleep replenishes your body — growth hormones are released, cells get repaired and new cells are produced. Every day, the strain on our eyes goes from 0 to 60 when we stare at our phones and computer screens in an effort to stay focused. Lack of sleep will result in lackluster eyes and you may also experience dry eye and eye-twitching symptoms When you sleep, all this stops and your eyes have the opportunity to revive themselves.
Tip: Experts recommend getting at least 5 hours of sleep for healthy eyes, with 7 to 9 hours being optimal.
2. Recycle Your Tea Bags
Swollen, dark-ringed panda-bear eyes are not in fashion. Fortunately, black or green tea can revive your eyes. To make your eyes pop, brew some tea, squeeze the excess liquid from the tea bags and cool them in the fridge. Place the cold tea bags over your eyes for about 5-10 minutes. Tannins in black and green tea have an anti-inflammatory effect and paired with the cold that restricts blood flow to the area, they combat puffiness and circles.
Tip: Place two spoons in the fridge for half an hour. Place the cold belly of the spoons to the area under your eyes for 5-10 minutes for a soothing de-puffing experience.
3. Invest in a Facial roller or Under-Eye Patches
If you prefer fancier methods to make your eyes pop, invest in a Jade or Quartz facial roller or under-eye patches. Click HERE for a super popular Quartz Roller with over 50K reviews. Some of the best under-eye patches combat circles, puffiness, crow's feet and wrinkles and fine lines. Under-eye patches can contain ingredients hyaluronic acid and niacinamides to plump and hydrate, retinol for anti-aging, and caffeine or vitamin C for brightening.
Right now I'm really liking the Pixie Beauty Detoxifeye Depuffing Eyepatches. Tip: Keep your rollers and patches in the fridge 24/7 so they're always ready to use when you need them. The cold from the fridge quickly works to reduce any swelling and really wakes you up.
4. Apply Eye Cream and Wear Sun Shades
Applying eye cream is essential to make the skin below your eyes look it's best. The skin here is the thinnest and most delicate skin on your body and is prone to show signs of aging the quickest. Sunglasses wit UV-Ray protection and a good eye cream can protect the eye area and combat signs of ageing. Finding the best eye cream takes some trying and testing. Whether you need an eye cream for fine lines and wrinkles or an eye cream for puffiness, dullness and under-eye bags, there are many to choose from at various price points.
One of the best drugstore eye cream for women that's praised by many is the RoC Retinol Correcxion eye cream. The reviews for this eye cream are simply amazing!
My non-budget option that I splurged on is the Estee Lauder Resilience Multi-Effect Tri-Peptide Eye Cream. About a week after using this cream, my undereye area looked so much smoother.
5. Get Rid of Red Eyes – Make Your Eyes Pop Instead
Red, irritated eyes are anything but pretty. Use eye drops to make your eyes pop and reduce redness. Your will get whiter and brighter eyes. By reducing eye redness, the color of your pupils stands out even more against the white of your eyes. My current go-to best drops for red eyes are from Lumify, but I've also tried other brands like Visine and Clear Eyes in the past. Always, find what works best for you and make those eyes sparkle.
6. Apply False Lashes to Make Your Eyes Pop
If you don't have a lot of lashes, apply some falsies in he top outer corners of your eyelashes. False lashes can seriously transform your eyes and even using little pieces can make a huge difference.
Tip: An affordable way to get small eyelash clusters, it to cut a full eyelash strip in three or more little pieces. Alternatively, you can also purchase pre-made eyelash clusters.
7. Eat a Healthy Diet for Healthy Eyes
Healthy eyes are gorgeous eyes. A poor diet always takes a toll on your appearance. Whether it's weight gain, breakouts, lackluster hair, brittle nails, or dull, lifeless eyes, what you eat can directly be to blame for your appearance. Eating foods that are known to be good for your eyes, will help make your eyes look their best. These foods include salmon, dark leavy greens, red peppers, eggs, sweet potatoes, lean meat and poultry, and legumes and beans. Including more of these in your diet, can make all the difference in the appearance of your eyes.
8. Curl Your Eyelashes to Make Your Eyes Stand Out
Whether you have hazel eyes, blue eyes, brown eyes or green eyes, eye makeup and makeup techniques can transform your eyes. They can make your eyes pop and instantly change your eye shape. You don't have to be a makeup artist to master these techniques. Use an eyelash curler to curl your lashes. Putting a curl in your upper lash line lashes, opens your eyes for that wide-eyed, fresh look. Eyelash curlers don't have to be expensive. The E.L.F. Eyelash curler is a budget friendly option and gets the job done.
Tip: If your lashes are like mine and don't hold a curl, aim warm air from your blow dryer on the lash curler before curling your lashes. The warmth will make the curl last longer.
9. Groom your Eyebrows to Make Your Eyes Look Amazing
Make an appointment at the salon to groom your eyebrows and maintain the natural shape of your brows. If a person wants a bold brow, you must maximize space in order to make a larger appearance. Bold, thick brows accentuate the eye. Differences in natural brows and over tweezed arches are that natural looks more innocent, whereas the latter looks older.
Tip: For full and expressive brows, use clear eyebrow mascara. If you don't have mascara or brow gel on hand, apply a little Vaseline or hairspray to a spoolie brush and brush it through your brows to set them.
10. Apply Mascara to Make Your Eyes Stand Out
Eyelashes frame your eyes and enhancing them with mascara can make your eyes look alive Finding a good mascara can be quite a task. I've use two different mascaras consecutively. One to add thickness and volume to my lashes and one to lengthen my lashes. I have yet to find one that does everything.
Tip: Thicken your lashes by applying a coat of baby powder or translucent setting powder to them before applying mascara. It also works on your lower lashes. For affordable options, consider looking for the best drugstore mascaras. I have several videos on my YouTube channel where I review and compare them.
11. Choose the Right Eyeliner to Make Your Eyes Pop
Rimming your eyes with black eyeliner will only result in small eyes. Although it may look beautiful if you're going for a smokey eye look, if you're hoping for bigger, brighter eyes, a white or nude eyeliner can help you achieve your goal. Avoid rimming your eyes with black liner if you have small eyes to begin with. Instead, line your waterline with the nude or white eyeliner to make your eyes immediately look bigger.
Tip: You can still tightline your upper eyelid with black liner if you want to fake a fuller lash line. (tightlining is done by lifting your eyelid sightly so you can line the area where your eyelashes meet your eyelid.)
12. Cover Up Dark Circles With Under-Eye Concealer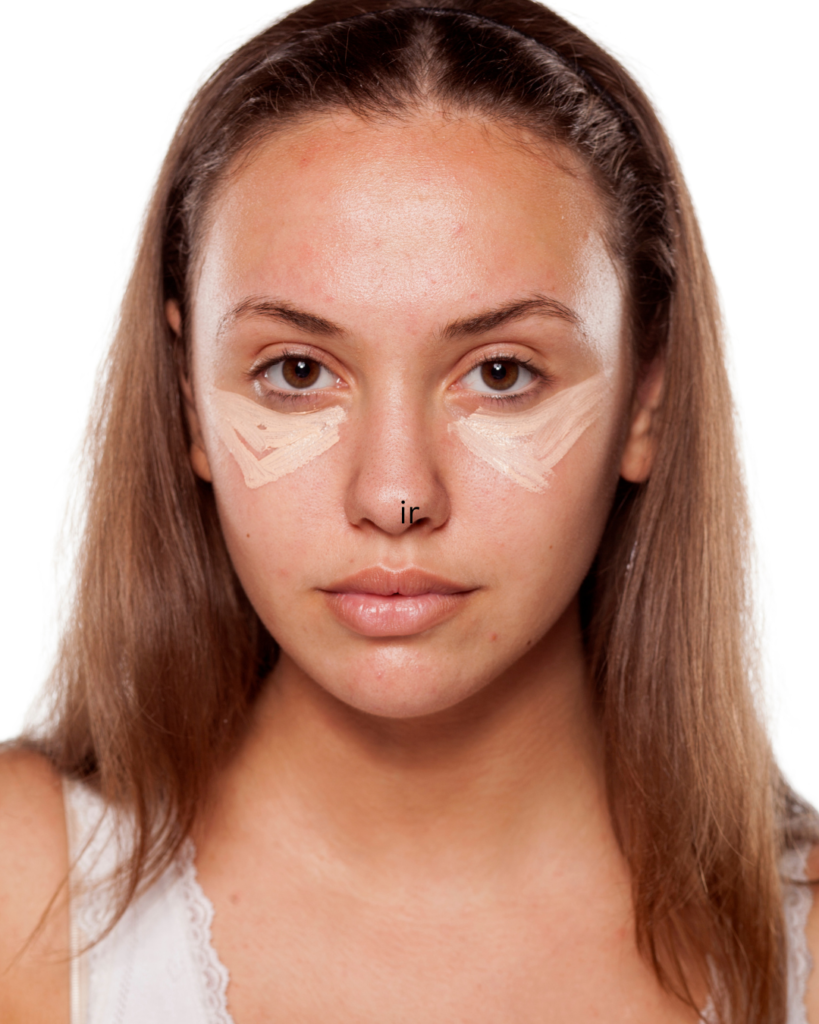 Circles are known for revealing shadows around your eyes and reducing your overall appearance. To enhance the brightness of the eye area, use a lightening eye concealer on the area below the lower eye to neutralize the complexion.
Tip: You can apply the concealer under the eye to create triangles of light underneath the eyes. Then gently blend out the concealer with a moist makeup sponge or makeup brush. Set the concealer with a translucent setting powder to keep it in place all day. Avoid using too much concealer, because it may set in the lines under your eyes and have an adverse effect. Apply it only where needed. Sometimes you just need a little in the inner corners or around your lower lash line to get the full benefit.
13. Apply Highlighter to the Brow Bone
Accentuating your brow bones can result in a sculpting effect. The use of highlighters on brow bones would help the brows look better. Apply the highlighter in the highest point of your brow's arch. Blend it so it looks like it's your natural skin tone reflecting the light.
Tip: Apply some highlighter to the inner corner of your eye to add some more light. It will instantly draw attention to your eyes.
Now you're armed with a lot of tips and tricks to make your eyes look better. Apply one or more of them to see what works for you. For more beauty tips, make sure to check out my 'how to look younger instantly' blog or my '19 tips to look better' blog. Remember, when it comes to beauty in general, we are all different and what works for some, might not work for you. Try difference makeup tricks or lifestyle changes, to find what works for you. No go and makes your eyes pop!